The abaya is a traditional black modest clothing worn by many Muslim women and young girls around the world. However, in recent years, to meet the needs of professional women and young girls, many brands like That Adorbs Hijab make abayas that meet the requirements of modest clothing while also looking stylish, comfortable, and easy to carry. One of them is the open abaya style which has gained a lot of popularity. The open abaya has a traditional feel and modest style while still giving off a western vibe. The Open abaya has become the first choice of young girls and working women who want modest clothing that is comfortable & stylish to wear.
So what exactly is an open abaya? These abayas are open in the front and come in a variety of styles. They go well with ethnic outfits, long flowy skirts, jeans, and maxi dresses, and make an excellent pairing with your modest wear. However, buying the right open Abaya online can often be a difficult task, that's why we at That Adorbs Hijab have put together 6 of our elegant open abayas perfect for any occasion to flaunt your modest look.
The plain traditional Abeer abaya
If you enjoy wearing black abayas, this is the open abaya that you need. Abeer abaya from Adorbs checks all the boxes for a traditional and comfortable abaya. These abayas are appropriate for formal occasions and can be worn with any outfit underneath. The frill on the sleeves adds a fashionable edge while remaining elegant and simple, allowing you to wear it to work events or other formal occasions.
The zari work Juwayriah abaya
The open abaya with zari work on the front and sleeves looks sleek and sophisticated as the zari work adds a delicate feminine touch. The Juwayriah abaya is an open abaya made of Nida fabric that comes with a matching hijab and belt. The delicate black and gold zari work bring the Juwayriah open abaya to life. You can wear it to special occasions too as this abaya will make you stand out and look classy at weddings, parties, or Eid celebrations.
The Kaftan style Nawal abaya
The Nawal abaya is an excellent choice for an open abaya to keep you cool in the summer heat. This is a stunning abaya that exudes elegance. Made from the lightweight, free-flowing Nida fabric. The abaya's minimal black stone work makes it suitable for both casual and formal wear. The kaftan style with matching head scarf and belt sets a higher standard of elegance.
The embellished Sakina abaya
This open-style Sakina abaya gives off a festive vibe. The Sakina abaya is luxuriously designed to provide a modest appearance. The delicate detailing on the abaya sleeves and along the length adds the necessary glitter for festivities such as evening parties. It comes with a matching belt for a tailored fit and a black hijab to take the stress out of finding an abaya hijab.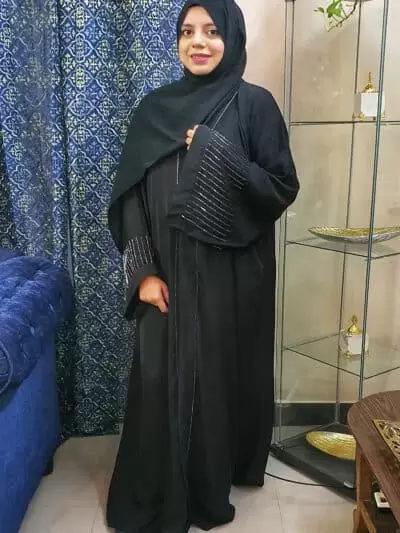 The stone embellishment Taqdees abaya
If you are a fan of kaftan style and stone detailing, you'll love the Taqdees abaya. The Taqdees open-style abaya is an ideal choice for daytime festivities. It is a fantastic choice for Muslim women who want to opt for abayas for festivities and occasions. The black stone Taqdees abaya gives the impression of a night sky giving you a dreamy and luxurious look. The best part of Taqdees abaya is that you get a belt and a hijab which completes your abaya.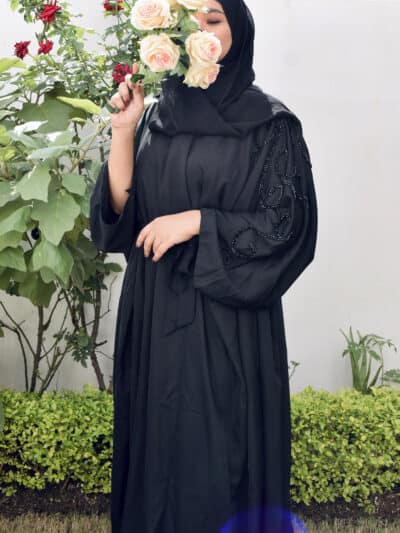 The stonework Arva abaya
The Arva abaya is another casual abaya that you can add to your collection. The broad sleeves with stonework details add a royal touch to your casual ensembles. You can wear it with trousers and longline shirts, a tunic and jeans, or ethnic clothing for the ultimate modest look along with a gentle touch of luxury.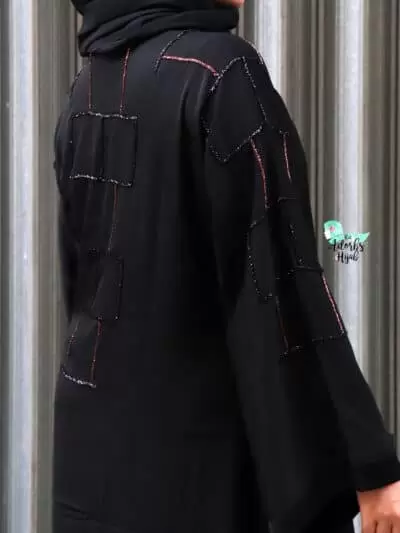 These are 6 of our mind-blowing open abaya styles that you can't miss out on buying in 2022. The open abaya style is popular due to its fashionable and comfortable look making them perfect for every day as well as special occasions. So what are you waiting for? We at That Adorbs Hijab have you covered with your favorite Abaya and hijab online for all occasions.