Abayas are a loose-fitting, full-length beautiful garment traditionally worn by Muslim women around the world. The word abaya is Arabic for "cloak," & as Islamic wear becomes more popular and mainstream, many girls have started wearing an abaya in recent years. With the rise in the understanding of the importance & significance of abaya in Islam, many Muslim females have been experimenting with colors, patterns & fabric.
However, selecting the right type of abaya is very crucial especially if you plan to do it online as many companies sell inferior quality abayas for quite a high price. So, if you want to look stylish and elegant without spending too much money, then this blog post will be perfect for you! From fabric to fit, these tips will help you buy the Perfect Abaya online.
1. Make sure the Sleeves are right size
Many women often overlook the importance of a well-fitting sleeve even in the case of an Abaya. If the length of a sleeve is either too long or too short it can easily ruin the look of a beautiful design. Not only that, but long sleeves can get in the way of your regular activities, while short sleeves do not fulfill the purpose of the abaya putting you in a difficult situation. That's why you must make sure that the sleeve of your abaya should be right till your wrist, not too short nor too long. You can do this by browning through the images or looking at the size guide we offer on each of our beautiful abayas.
2. Excess layers of Fabric must be available
When you see someone swimming in fabric (especially the silky smooth ones), it might be a little intimidating. Layered abayas are an example of this. Choosing a flowy and layered abaya helps cover you, especially if you have a tiny body frame. As a result, it's best to buy abayas that fit your shoulders and don't overwhelm your frame. However, if you can't find an abaya that fits your body frame it's recommended to choose abayas with a belt to give you that flowy look.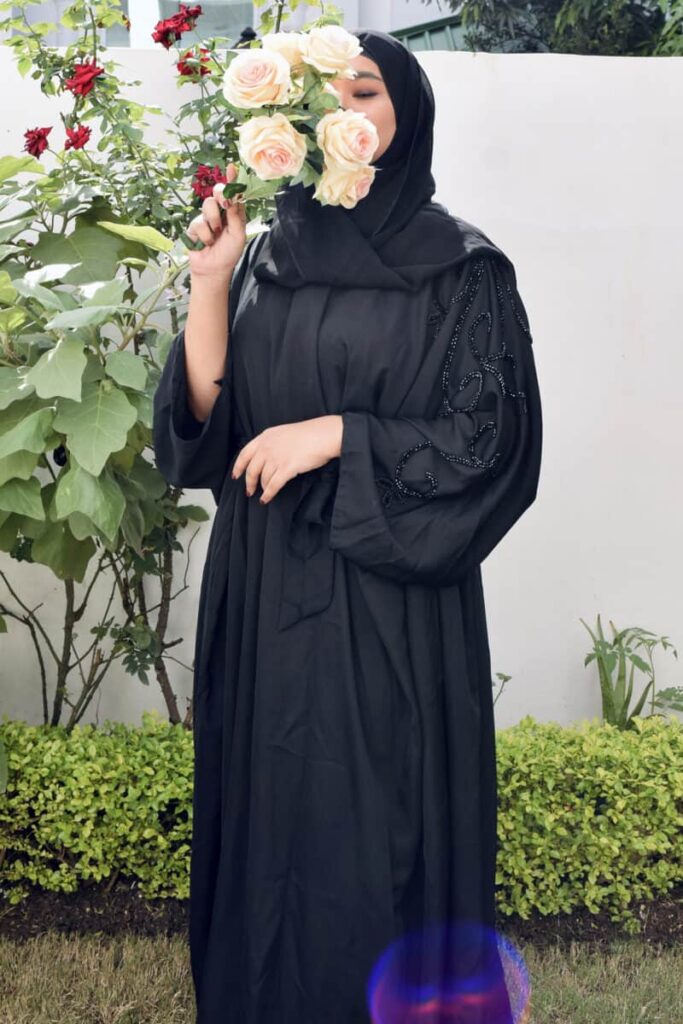 3. Floor sweeping Abayas aren't Stylish
A sweeping abaya doesn't look decent no matter what style of abaya you're wearing. The same can be said for a brief one. When shopping for an abaya style, be sure it would work well with both flats & heels. After that just choose a length that falls just a few centimeters below the ankle & you're good to go!
4. A Flattering Fit is the Right choice
It is preferable to choose something that flows rather than something that sticks especially in the case of Abayas. Women frequently make the mistake of choosing a fitted abaya type that sticks to the body. Choose a regular fit Abaya with a belt around the waist to keep the look modest while still looking stylish & attractive! Always measure yourself before purchasing and compare it to your other abayas to find the best fit abaya for your body frame.
5. Avoid too many Layers
Again, don't go overboard with the layers. Excessive layers on top of your dress detract from the sleek appearance you desire. To avoid this, make sure you choose a lightweight fabric dressing style. This will not only remove the bulk from your appearance but will also give you more freedom in how you dress your abayas and hijabs. Keeping warm is the goal in the winter; try not to look puffy while doing so.
6. Remember to stay Updated as per the Season
Just like everything in your wardrobe, abayas also need to be updated with every season. Abayas, like any other apparel line, are available in seasonal fabrics. Fabrics such as Silk, Cotton, Nida, and others are the best choices for summer. Whereas the Jersey and wool fabrics are more suitable for winters. Make sure the abaya types, hijab styles, abaya patterns, and colors you're wearing are appropriate for that particular season to attain maximum comfort.
7. Classy is never bad
Embroideries and embroidery are absolutely beautiful. Abayas with intricate designs and embellishments give a beautiful display of luxury and elegance. That's why you must intricately focus on the quality and precision of the embroidery while looking for an abaya online. Are the details expertly crafted? If that's the case, go for it. Poorly attached rhinestones, faded needlework, and dull sequins are never appealing & keep falling off which ruins the look.
8. Regularly Upgrade from the Black Abaya
Black perfectly complements every skin tone and underlay color, that's why a majority of the abayas are black. However, Black abayas on the other hand, fade quickly if they are worn frequently. That's why as soon as you notice the fade disappearing make sure to wear or buy another abaya to prolong the life of others. Follow those fading signs because they are beneficial and excellent techniques for extending the life of your abaya.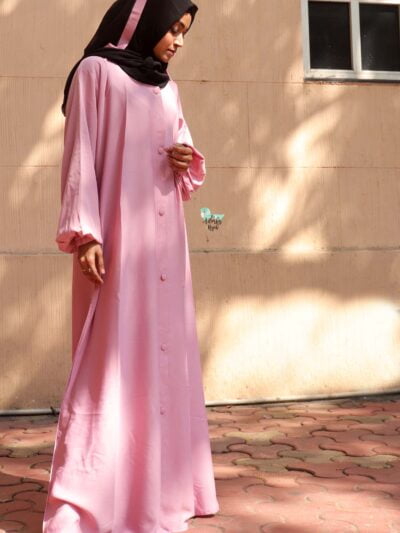 If you follow these suggestions, you will undoubtedly create an impression on everyone. You can look quite smart, trendy, elegant, yet modest and fancy with the proper size, measurements, sleeves, colour, abaya designs, hijabs and hijab styles, abaya styles, and so on. Have trouble finding the right abaya online? Well, don't worry as we at That Adorbs Hijab offer the latest & widest range of Abayas in multiple colors & sizes for you to choose from.