With the wedding season here it's a task for every Hijabi out there to find the perfect hijab style. Draping a hijab is an art form, and wearing a hijab for important events is your chance to shine. This makes it important for you to know which hijab to wear for a wedding.
Nowadays you can never run out of ideas. There are several options for extravagance in hijab styles for special occasions ranging from weddings & reception parties to family gatherings and Adorbs Hijab's Luxury Hijab, Shimmer and Metallic Textured Hijabs offer a naturally flowing look and is perfect for special events.
And If you want to be more flamboyant, wear anything with embroidery or sequins, and hijabs with lace detailing do the job perfectly. If done correctly, an intricately embroidered hijab might remove the necessity for jewelry. Accessories are your best friend when it comes to accessorizing your hijab for weddings or special events. You can always accessorize your hijab with studded beads and adorned diamonds. An enticing hijab pin secures your headscarf and completes your ensemble, amplifying its beauty 10x times. There are a plethora of combinations available to make you stand out on a particular occasion.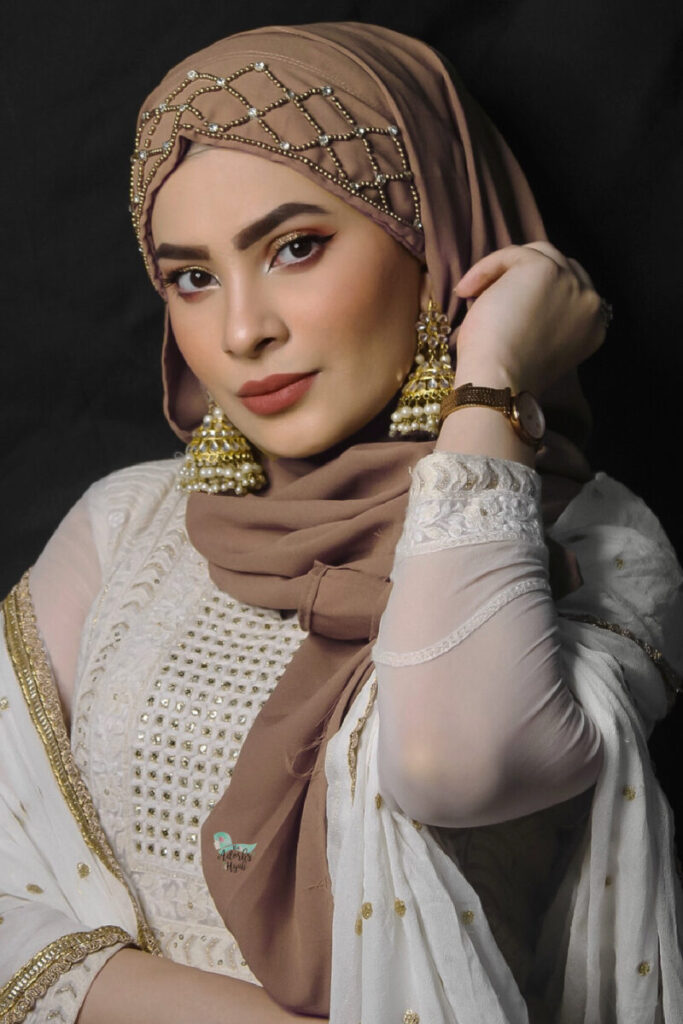 How to choose the best Hijab for a Wedding?
Hijabs are available in a variety of colors, hues, designs and sizes, so whether you're attending a wedding or another special occasion or event, there's always one that suits you perfectly.
There's also a wide range of fabrics to choose from, such as chiffon, jersey, silk, cotton, and viscose, which is important when it comes to finding the appropriate one for you. Mixing and matching hijab materials according to the season looks beautiful while also providing an extra layer of comfort to your clothing – for example, chiffon and georgette hijabs are ideal for summer since the breathable fabric keeps your head cooler in the heat. When the temperatures rise, it may be difficult to wear a hijab, thus the emphasis should be on keeping it as light and breezy as possible.
Thicker, somewhat heavier fabrics such as cotton, jersey, and viscose are ideal for the winter and colder seasons. They're not just warm, but also simple to wrap and adjust when styling; their non-slip properties give you more room for creative hijab styles like the 'turban' hijab.
While attending a wedding or function don't feel obligated to wear a solid color. Lately beaded and Zari work luxury hijabs have been a significant trend, motivating women to freshen up their collection to make a classy statement. Luxury hijabs from Adorbs Hijabs add a timeless, beautiful touch to every outfit. The breathable fabric is simple to style, provides adequate coverage, and is extremely lightweight, making it comfortable to wear throughout the day and evening. When worn, they have a soft touch but provide a better grip. Plus, you won't have to iron this hijab because the fabric never wrinkles! 
These luxury hijabs may even be used as head jewelry, eliminating the need for any other jewelry. Hence, Luxury hijabs are the best hijab options for a wedding or any other special occasion.
How to style a Luxury Hijab for special occasions
The Desi style
Place the hijab material on your head evenly.
Tie a knot with both ends towards the rear.
Bring both ends around and tuck them into the hair bun.
Place the dupatta over your head once the turban is set.
The Chic style
Place the hijab on top of your head, with the right side being longer than the left.
Bring both sides to the back and attach the hijab on your head with a safety pin.
Bring the right side forward while leaving the left side behind.
The Elegant Style
Place the hijab over your head evenly.
Bring the left side of the scarf around to your right shoulder and tuck or pin it into your dress.
On the right side, repeat the process.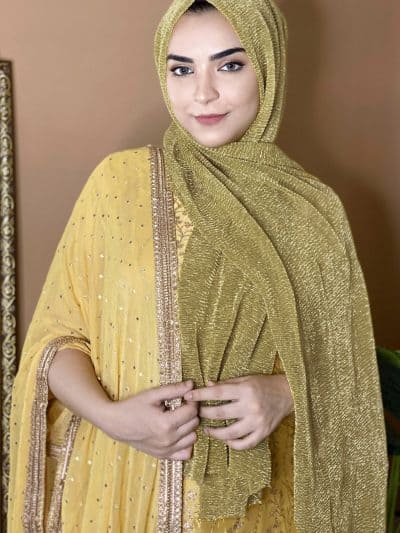 Advice on how to style your Wedding Hijab
To avoid clashing, match your hijab to either your dress or your accessories and don't use too many colors while mixing and matching.
Wearing a matching hijab cap underneath your hijab makes it easier to keep your hijab in place all day.
To make your hijab more comfortable, tie it in a simple wrapping style, try using a hijab scrunchie as it'll add volume to your hair.
Weddings are one of the most significant days in a woman's life, and it's not just the bride who must choose her hijab with care. It takes time and thought to plan the perfect wedding dress as a guest as well & your hijab may play an important role in completing your ensemble.
So if you're not sure which hijab to Buy for a wedding? Check out That Adorbs Hijab & choose your favorite Luxury Hijab Online.