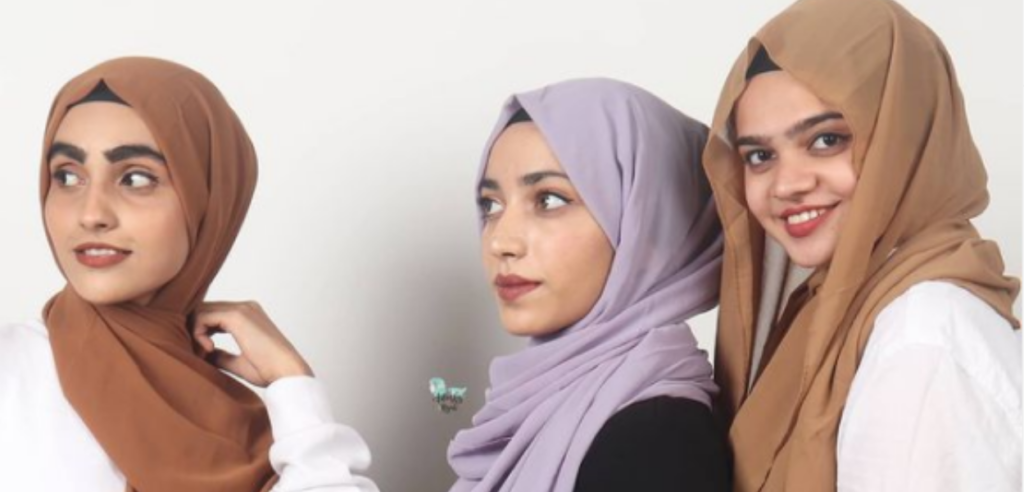 Hijab is an obligation in Islam for women to cover their heads in effort to promote decency and modesty. Although religious reasons are the primary motivation for wearing a hijab, women who wear it also benefit from other advantages. These scarves wrap the head and a portion of the face in two or three layers, providing good protection from the sun as well as dust and pollution.
Hijab also protects your face from chilly air, which can cause your skin to dry out in the winter. With winter around the corner, we'll all be browsing through our closets for appropriate scarves, gloves, boots, overcoats, and jackets. If you wear hijabs on a daily basis but aren't winter ready, Adorbs is here to provide some comfy & good looking hijab styling suggestions for winter.
Hijabs come in a variety of colors and patterns, making it easy to match at least one to your present outfit. Our amazing new hijab style ideas work well with any eastern or western outfit, you can also wear them with gowns!! The beauty of the hijab is that it adds versatility to your already amazing wardrobe. Simply altering the color of your Hijab can make a great difference in your overall appearance, so here are some amazing winter ready hijab ideas:
Multi Layered hijab
Because the hijab is wrapped in numerous layers, it has a lot of volume. It looks stunning with any attire. Here's how you can do this: Use a warm hijab and begin wrapping it around your head in two whorls, then before looping around, fold the edges to provide volume. Pin all the layers together to hold the hijab in place. Finally Leave the ends of the hijab hanging from one shoulder and you'll have a complete hijab look from a woolen scarf.
Turban style
Turban hijab gives the wrap a turban style. It envelops your entire head and lower neck. It goes well with dresses and loose-fitting outfits. The scarf's lower hands can either be utilized to wrap around the neck, or they can be pinned at the bottom of the turban. To give the hijab a turban appearance, both ends are wrapped across the head. We suggest you use a multicolored or dichromatic scarf to give it a one-of-a-kind look.
Simple wrap around
Wrap the hijab around the cap put on the head using the easy scarf technique. It's a casual wrap that may be worn with any casual outfit. It is also lightweight, allowing ladies to be comfortable when wrapped around. Wear a leather coat or any other long winter suit as a finishing touch to complete the look.
Neck wrap
This hijab design conceals your neck. It looks great with fur jackets or any garment with volume at the collars. Choose lightweight fabric since you will be tying it around your neck, just to avoid the uncomfortable feeling. Furthermore, this style provides warmth and comfort by covering the neck and ears and preventing air from entering.
WINTER FASHION SUGGESTIONS FOR HIJABIS
Try wearing a headscarf with a bomber jacket to give yourself that celebrity look. You can also choose a fur carpet bomber jacket or a patched bomber jacket which gives a completely packed look.
Denim jackets are a staple in any girl's wardrobe since they go with everything and they look beautiful with a hijab, whether worn by a lady or a teen.
When we talk about it, people often think it's strange, but hijab with hats also looks great. If you're wearing a single-layer hijab in the winter, you may shield yourself from the cold wind by covering your head with a woolen hat.
A hijab worn with a front open coat or long coat completes the evening style. The coat can be any color, but the hijab should be of thick material for an elegant evening look.
One thing is certain: while it may be cold, winter is the ideal season to experiment with your hijab style. With so many unique ways to wear it, you can keep it modest while being as creative as you want. If you're running out of styles for this winter, then buy the best Hijabs Online with That Adorbs Hijab.