With the temperatures reaching scorching high levels this summer & Ramadan approaching in April, it's become very difficult to stay & feel fresh for everyone, particularly hijabis. Wearing layered clothes and the hijab add to the heat, but that doesn't mean there isn't anything you can do to beat the scorching heat. By finding the ideal summer hijab material and colors first it becomes a significantly big improvement. As the summer heat rises, it's more crucial than ever to select a hijab that is breathable, light & most importantly fashionable. We understand that covering your head in the summer might be challenging, which is why That Adorbs Hijab provides hijabs made of airy, lightweight cotton fabrics that allow your head and hair to breathe. So that's why we've made a list of hand-picked colors in cotton that are ideal for this summer.
The Chic lavender premium cotton hijab
This hijab is an outstanding summer color that will work with any outfit allowing you to stay comfortable & stylish whenever you go out. The silky smoothness of the fabric makes it feel like you aren't wearing anything around your head at all. Its tight weave and light texture make it ideal for battling the summer heat. The gorgeous lavender colorway works really well with lighter colors, like a white flowy abaya or a white long dress and flat footwear. Make sure you only handwash this hijab to prolong its life & maintain the beautiful lavender color of the Hijab.
The signature Cloudy grey premium cotton hijab
This stunning cloudy grey heavy cotton hijab is ideal for hitting the streets or returning back to the office in style. It's very easy to put together & wear quickly thanks to the non-slip parts and lightweight fabric. It's ideal for summer and exceptionally gentle to the touch, which is important for your skin. It's a maxi size as well so you can have as much coverage as you like without having to worry about the scorching heat. This stunning hijab can be worn with a simple blue abaya or your favorite blush pink puffed sleeved tunic with blue jeans.
P.S. Don't forget to add some stylish shades to complete the look.
The Beach day sky blue hijab
This alluring hijab is almost weightless, making it ideal for the summer heat. The cotton fabric is non-slip and extremely versatile in terms of styling making it very easy to dress. The cool yet traditional tone is one of our favorites, and it looks great with nearly everything. The classic yet cool tone of the hijab looks fantastic with a bright pink flowy dress, making it the perfect outfit for your trip to the beach.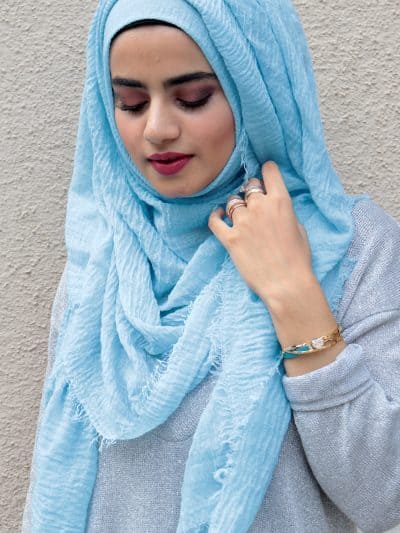 The easy to style sugar premium cotton hijab
This is a stunning, soft-to-the-touch hijab that you need to have in your wardrobe. Cotton fabric is used to make the non-slip and light fabric. The texture adds a slight touch of distinction, and the length of the rectangular-shaped hijab allows for better coverage. This is the ideal hijab for everyday wear if you're ready to return to the office and break free from your work-from-home schedule. You'll be ready for anything, from pairing it with high-waisted peg-leg suit trousers and a jacket or a beautiful Abaya from our colored abaya collection.
The summer brunch mauve ombre hijab
The cotton fabric used in this hijab has been dyed with toxic-free dyes, making it both sustainable and summer-friendly. This hijab is airy, light, and has a smooth feel & with its cool tones and ombre effect, the seasonal mauve palette is one of the favorites of our customers. To create that cute girl style, you can mix and match the hijab with lighter-toned flowing clothing. The 185cm x 85cm size provides plenty of coverage as well as enough fabric to experiment with different styles. You can wear it with an oversized shirt tunic, a side bag, and heels to get the best looks.
The refreshing mint green ribbed cotton hijab
This hijab reflects the coolness needed in the hot weather, with a regal-looking mint green ribbed cotton fabric manufactured from 100% ethically sourced fabric. Its cool & fresh color encapsulates the essence of summer making the soft fabric is ideal for hot weather & exactly matches the summertime freshness that we all desire. So match it with a peach or baby blue dress in solid tones & let our hijab do all the talking for you.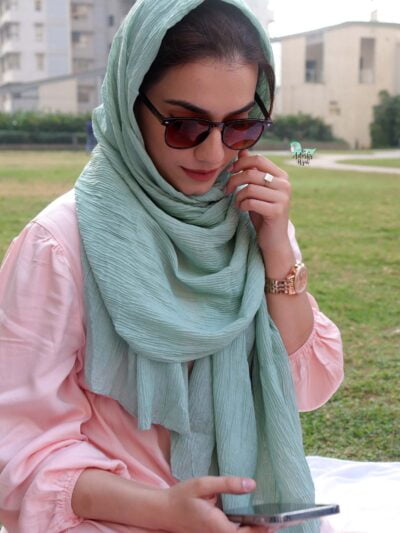 The TAH cotton hijabs are ideal for the summer months if you want to stay comfortable and fresh — the colours, texture, and eco-friendly material all work well together while allowing your head and hair to breathe. With TAH you can So what are you waiting for? Click here to buy the best cotton hijab online & stay summer-ready TAH.