It seems like only yesterday that we were fasting, praying tarawih, getting up early for suhoor, and having delightful meals in Iftaar last Ramadan. Ramadan is the most awaited month for all Muslims as it bestows us with peace, guidance & blessings from Allah and like last year before it, the holy month will pass in the blink of an eye. So now is a fantastic time to start planning your Eid attire (don't leave it for the last week this time), and that's why we're here to assist you in finding the perfect Hijab for this Eid!
Eid is one of the best times to step up your hijab game & what better way to do it than That Adorbs Hijab. Although every lady has her way of wearing her daily hijabs, special events such as Eid need a fashionable, elegant & comfortable hijab. There are a few advantages to planning your Eid attire now, one of which is that it's something you can cross off your to-do list & focus on more important things for Ramadan! Whatever you want to wear, make sure you get it in time for Eid because most modest clothing websites see a flood of orders around Ramadan. So if you plan to buy hijabs from TAH, make sure you give yourself enough time to choose the perfect hijabs & accessories for your perfect attire.
To help make your life easier, we've made the ultimate guide for TAH hijabi girls this Eid that'll make everyone's jaw drop when they see your IG stories. Here are some things you can't miss out on buying for Eid 2022:
Pearl embellishment or plain hijabs
With a special occasion like Eid, the pearl-decorated pieces can finally be worn! Normally, a hijab must be plain to match a patterned garment, but Eid encourages color and innovation. To amp up your style, you can always wear one of our statement pearl-studded mauve, nude, or white hijabs.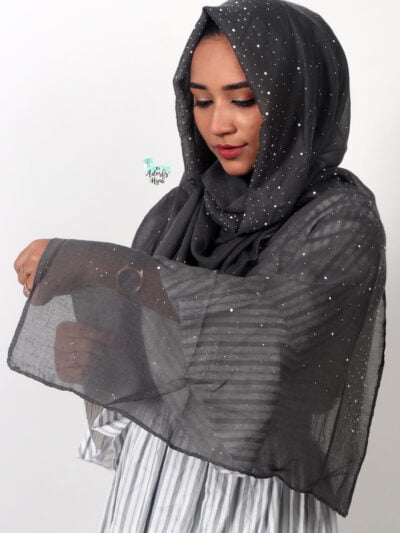 Of course, if you're wearing a lot of patterns, you'll want to match your hijab with basic premium cotton or georgette hijabs to avoid overdoing it, but make sure you keep the colors bright as summers are always about vibrant colors. This is the one time when you can wear something different from your usual hijab so make sure to plan your Eid outfit in vibrant cool colors to make a statement this Eid.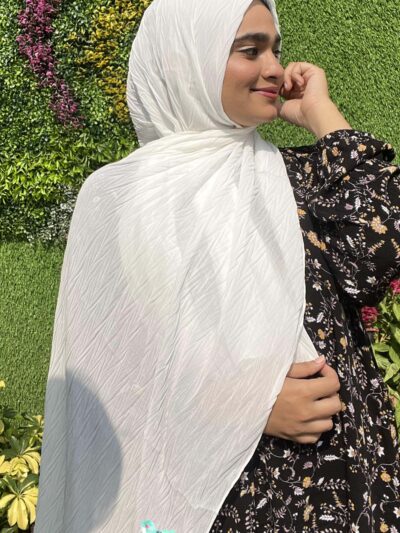 Luxury Hijabs
Our Embroidered luxury hijabs have been carefully handpicked in various colors and shades with matching embroidery to go along with your festive wear. The unique pattern and soft fabric offer you a glamorous and exquisite look allowing you to stand out from others this Eid. They are quite comfortable to wear and go with almost any outfit. With the TAH luxury hijabs, you can experiment with different styles without having to worry about matching accessories.
Hijab Undercaps
The under cap is an excellent way to keep your hijab in place during the hectic day of Eid. Because of the texture of your hair or the humid weather, wrapping a hijab around your head can cause the hijab to shift and slip throughout the day. A non-slippery base is created by an under cap, which holds your hijab in place all day so you can enjoy Eid celebrations without having to worry about your hair showing from underneath your hijab.
Accessories to blend in with your Hijabs
Hijabis love accessorizing their scarves, and we fully support it. Don't be scared to go the extra mile to make your hijab look bolder for this particular occasion; it's the most unique and stunning addition to your ensemble.
Use magnetic pins with gems, a matt finish, or a glossy finish on the front, back, or sides of your hijab if you have them. For this occasion, your hijab needs extra attention; that's why our magnetic pins make sure it stays put and adds a touch of beauty whenever you visit family or friends.
Eid Abayas
If you wear an abaya or want to wear one this Eid, the TAH abaya is your best buddy. Trends from the Arab Gulf, which is the epicenter of abaya fashion in the Muslim world, have inspired us to create loose-fitting abayas with less beading and different colors in addition to the classic black abaya. We offer abayas with matching hijabs, which have the same details as the abaya. The abayas are composed of an extremely light fabric that keeps you comfortable throughout the day. You can always add a fancy bag and elegant shoes to your abaya for completing your Eid outfit.
Cultural outfits
For many women, Eid is an occasion to wear traditional clothing to reflect their culture's beauty and heritage. Clothing steeped in cultures, such as desi kurtas and pants, salwar-kameez, maxi dresses, or shararas & Ghararas. They offer modest and extremely beautiful celebratory Eid attire choices. There are a plethora of Eid outfits to choose from, all of which draw inspiration from various cultures throughout the world.
We hope that these tips will make selecting an Eid outfit simple and effortless, allowing you to spend Ramadan focusing on worship and family rather than worrying over Eid preparations. TAH offers some of the best collections of hijabs online for Eid and other special occasions, so click here to visit our website today & grab your favorite hijabs & abayas before they run out. TAH wishes you a blessed and healthy Ramadan, with a fun and elegant Eid.