With temperatures rising up to 40°C in some parts of India and Mumbai having an average temperature of 30-35°C every day, summer heat this year is no joke. Unless you live in Antarctica, you must be feeling the summer heat, but we can't let this heat get the best of us and enjoy the summer rays before the rain comes & wipes out all our plans.
Even though dressing modestly and wearing a hijab is a blessing, when temperatures exceed 40 degrees, it can get a little overwhelming. Choosing light fabrics and wrapping your scarf loosely can help you beat the summer heat (and have the perfect reply to the nagging question, "Aren't you feeling hot in that?").
Keeping cool and at a comfortable temperature can be difficult for those who dress modestly. Fortunately, we at TAH have put together a list of some amazing tips that'll help you keep cool this summer.
Always choose breathable fabrics
It all starts with choosing the right fabrics & traditional Nida is an authentic and soft-to-the-touch fabric. Nida is one of the most comfortable fabrics used to make stylish yet modest abayas. Adorbs offers a variety of black & colored abaya styles made of Nida fabric for you to choose the perfect match for every occasion.
Cotton hijabs are another way to go & your best friend in summers. The comfortable, breathable and lightweight fabric absorbs sweat to keep you cool in the scorching heat. The cotton fabric lets the air circulate through it, thus making them breathable & the ideal fabric for hijabs.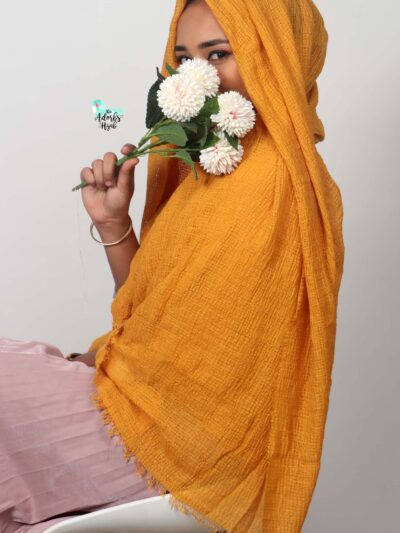 Choose what feels comfortable to you.
Everyone has different skin sensitivity and different preferences for staying comfortable in hot weather. Some might prefer a simple black of colored abaya while others may combine a modest hijab with a flowy dress to beat the heat. So thanks to the versatile nature and designs of modest clothing, nobody has to wear anything they're uncomfortable in to stay cool.
Wear light-colored outfits and hijabs.
Yes, you read that right, light shade colors are a better option to wear in summers rather than plain black. Of course, many Muslimahs believe that wearing dark colors, particularly black, is preferable. However, we suggest you give lighter colors a try in the summer (at least for your hijab). You can style your outfits with our amazing collection of colored cotton hijabs available in blush pink, slate grey, mint, powdery beige, and many more subtle yet poppy colors.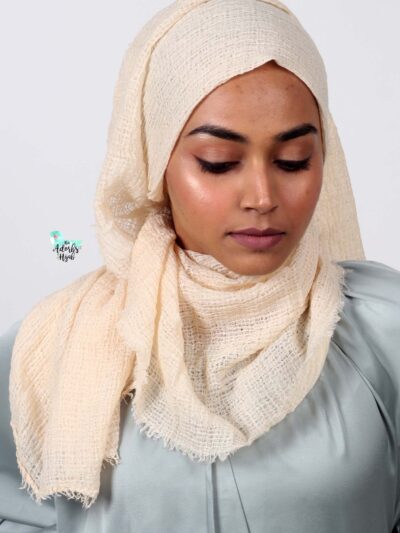 Wear natural fibers.
Before you shop for any hijab online for the summer, make sure you only select natural fibers & not fibers that are a blend of different materials. Cotton and silk are much cooler than chiffon in the summer. Chiffon is also a good choice but you need to ensure that it's breathable and doesn't get uncomfortable as the heat rises.
Make sure the material you select is water-resistant (otherwise it's out). Avoid it if air cannot pass through it and trust us as you'll be grateful to us for this trip.
Wear clothes made of natural fibers on the inside
Another mistake that many women make is wearing heavy clothing inside their abaya during the summer. Take it easy on the shirts. Wear cotton Kurtis, even with half sleeves, to keep your body temperature stable. Wearing so many layers of clothing also distorts the shape of your abaya. So, when going out in the summer, keep your inner clothes light & comfy while covering yourself with a beautiful abaya from Adorbs.
Abaya designs with minimal embroidery or beadwork
Although most women admire embroidered Hijabs & abayas, they can make you feel hot in the summer. Of course, this does not discourage you from wearing embroidered abayas, but you should look for designs with the appropriate amount of beads or sequins and placement of the embroidery. Summer embroidered abayas with minimal design on the sleeves or neck are the best to wear.
Our heather-colored abaya is just right for the summers, the fresh heather pink color and Nida fabric are the right combinations for the summer abaya. Summers are also to flaunt your floral prints, the Zahra abaya from our collection has the most beautiful floral print in the most eye-pleasing colors. You can also check our Arya abaya from our black abaya collection for the minimal detailing that you are looking for, for your summer abayas.
Wrap your hijab in loose styles
In the winter, our heads are the place where we lose the most heat and need to stay warm. So it stands to reason that in summer, we should focus on keeping our heads cool (quite literally).
As hijabis, we are fortunate to have a ready method of protecting our hair and scalp from the harsh summer sun. But how do we keep our cool?
You can start by maintaining a light, airy, and breathable fabric like cotton.
As mentioned above choose a natural fiber, though good breathable polyester and nylon scarves are available whichever suits you the most.
Colors should be kept light, pastel, and subtle.
What matters most is how you wrap your hijab. Keep it loose around your neck or try one of our instant hijabs to avoid such hassles. Avoid wearing styles that wrap around your head multiple times as it traps the heat inside your scarf.
If your outfit is making you sweat, feel hot, or give you a heat headache, consider saving it for the cooler months and trying something new.
We hope that our tips for staying light and cool while wearing a fashionable abaya will help you in planning your hijab looks during the summer. And if you want a location to purchase the perfect summer hijab online, visit our website today!
We at Adorbs offer the widest range of hijab colors and fabrics to help you stay cool yet stylish this summer.