Muslimahs around the world love and wear the hijab for a variety of reasons. The traditional hijabs for Muslim women have long been associated with Islam itself. Many stores provide Hijab online in a variety of materials like jersey hijabs, cotton hijabs, georgette hijabs, and other styles to choose from. However, wearing a hijab that sets well and lasts a long time is a problem for a majority of hijabis. As a result, we at That Adorbs hijabs provide you with our new and easy-to-wear Instant Hijab. It's an impressive innovation that is quickly becoming the preferred hijab choice as it requires no pins and makes you feel more at ease. 
Instant hijabs have become very popular as the demand for an easier and simpler process for wearing the hijab among young girls is growing. Despite the simplicity of hijab fashion and style, the Adorbs instant hijab offers a perfect look and style all day.
The Advantages of Wearing an Instant Hijab
Choosing the best and most comfortable hijab can be difficult, but pinless hijabs are always the best. They are pre-sewn and come in incredible color and material combinations. There are several advantages to wearing an instant hijab, some of which are:
Adorbs instant hijabs allow you to work comfortably in environments where safety is absolutely important, such as that of nurses, teachers, and doctors. You have the option of performing Hajj or Umrah wearing our instant Adorbs hijab. Crowds and pins should not be mixed as constant pushing can make the pin move around. Simply put on, and you are good to go.
The material used to make instant hijabs is of high quality. This hijab has a very soft touch, and the non-slip fabric makes it ideal for everyone. The soft and light instant hijab is very versatile and easy to wear in a variety of ways. This hijab will retain its quality and elegance no matter how frequently it is washed.
Hijab pins are not required. This makes Instant Hijabs ideal for quick outdoor outings, business meetings, professional events, and other occasions. This hijab is soft, firm, and comfortable on the head. This premium scarf will give you a classy and elegant look. Wrap it around your head in any style, and you'll shine everywhere you go.
Instant hijabs give you the comfort and ease you've been looking for. Instant hijabs are made to fit the dimensions of your head. It is usually designed to be covered around the person's face. The rest of the fabric can be wrapped by you at your convenience.
This stylish instant hijab is made of high-quality jersey material. Elastic and wrinkle-resistant materials allow you to make your hijab style. Our soft hijab and tie are light on your head. You can wear this lightweight hijab all day without feeling like you have something on your head.
The soft, non-slip, and flexible material of an instant hijab makes it easy to wear. In minutes, you can style your hijab and be ready to go. Thus the classy instant Adorbs hijabs are the perfect size and material for a new look every day.
What makes Adorbs instant hijabs the perfect choice?
All of our carefully designed hijabs are hand-made by our hijab experts, who design hijabs with the weather, fabric, trendy colors, and new designs. This is to ensure the high quality of service that we provide to offer hijabs that have a unique design and are of premium quality.
Moreover, because no pins are required, wearing an Instant Adorbs hijab is safer than wrapping the scarf yourself. Our Adorbs hijabs won't hurt you when you are in a hurry or will not accidentally step on a pin, and you won't have to worry about your children swallowing pins.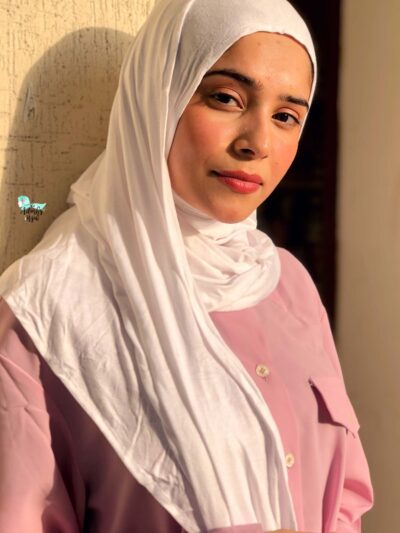 No pins are required to wear this hijab because they are pre-sewn to slip down on and fit around the face! Simply slip it on, wrap it quickly, and you're good to go! They are ideal for beginners, moms on the go, or anyone who values simplicity and ease while also having great style. Many women prefer to wear these instant hijabs on an everyday basis.
The Instant Adorbs hijab is long and provides the most coverage possible. To style the instant hijabs, you won't need a single pin. They have a lovely design, come in a variety of elegant colors, are long, and are the softest jersey hijabs you'll ever wear. It's the ideal go-to hijab for your daily routine be it work or college.
So Say goodbye to itchy chins with our pre-sewn instant Adorbs hijab. We have the most stylish hijab online for professional and business wear. Our Instant hijabs are available in a variety of colors to suit your personal style. So what are you waiting for? Click here to buy your own Instant jersey hijab before it runs out!